Chem-E-Car is a hands-on design project that was introduced on the Iowa State University campus in the Fall semester of 2004. Each year, Chemical Engineering students (along with students of various other majors) design and build a small, chemically powered car to compete against cars built by students at other universities.
The cars must be powered by a chemical reaction and have no mechanical stopping device (i.e. no brakes). It must also be able to fit in a box roughly the size of a shoebox. (Official rules and information are found here.)
At regional competitions, the students are informed the amount of additional weight that the car must carry (100-500 gram of water in 1 gram increments) and the distance that the car must travel (50-100 feet in 1 inch increments). The team which comes closest to the prescribed distance (best of two runs), wins the competition and qualifies for the national competition in November.
Chem-E-Car Team Sponsors: We would like to thank all of our donors who helped make the car a success. Many of the teams at the competition relied heavily on corporate support, and we could not have done this without your generous help!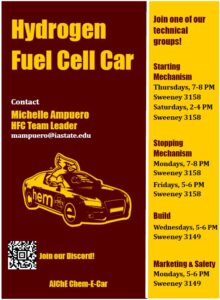 Get Involved with Chem-E-Car
The Chem E Car team currently has three teams that are building cars. This is a great time to get involved with Chem-E-Car!
Chem-E-Car Chair: Tommy Krohn – tmkrohn@iastate.edu 
---
History:
 National Conference 2017:

National Conference 2018:

One team "Cy-onara" represented Iowa State at the regional conference at Pittsburg Pennsylvania.  They finished 12th overall but next years team obtained key design strategies for next year!

                                         

Regional Conference 2017:

At the 2017 Regional Student conference in Tulsa, two teams from Iowa State competed. A six-cell lead-acid battery car stopped using an iodine clock reaction placed 8th. The other car powered by an aluminum-air battery and stopped with a vitamin C mechanism placed 1st in the poster presentation and 2nd in the competition. This qualifies them to compete in the upcoming National Student Conference this fall.

Regional Conference 2018:

Two teams, Cy-onara and the Cinnamon Cyndaquils, represented Iowa State at the regional conference at Oklahoma S

tate University. Both teams did well, with Cy-onara qualifying for nationals with a second place victory in the competition, and first place recognition for their poster presentation.